Eat it All: 2 Ladies feed 1 Toilet - MissMortelle [2022 | FullHD]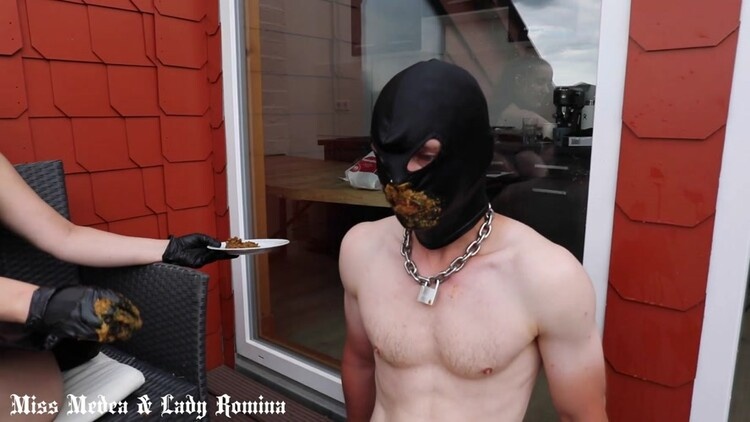 Duration:
00:38:00
Quality:
FullHD
Format:
MPEG-4
Size:
2.71 GB
Our toilet slave for today is a real shit addict. He really thinks he can take the shit of two dominatrixes! Lady Romina aka Whipping Polly and I will put that to the test today. First, my human toilet is presented to the new lady and I explain to Romina what can be done to this shit hole. We make fun of him and let him know that he will soon get his mouth stuffed with our piss and shit! I put a mouth gag on my slave, by which he becomes a human urinal. Through this device, my slave must swallow every drop of pee, or he will suffocate.
As a first challenge, our toilet gets my stringent morning urine, which I had collected for him in a measuring cup. Taking turns, Lady Romina and I pour the dark yellow juice down our draining pipe. By the way, I bought the great toilet mouth gag from a gay store in Amsterdam. However women can also urinate in it very well. I will prove that right away. So I spread my legs and stand over my human urinal. In this sexy position I just let my juices flow and piss directly into my slave's mouth. This lucky toilet has to swallow quickly now and you can already him coughing and gagging. Lady Romina and I are laughing our asses off. He must swallow my piss until the last drop! Then Lady Romina also has to take a piss so desperately! She pisses a real monsoon of golden shower. Half a liter more for our toilet. In a small coffee break (in which my slave serves me as a couch table), Lady Romina and I discuss what's next. You can probably already guess it: We have a lot of nastier things in our minds! As soon as the coffee starts to take effect, I stand with my naked ass over our slave. Slowly I tease him and the camera and then hover with my divine butt hole directly above his mouth. Now it´s time to train our slave to become the shit toilet of 2 ladies. Let's see if he can take the first portion of scat! He will have to eat everything that comes out of me! Watch my huge sexy shit sausage plopping out of my asshole and how Lady Romina helps me putting it in my toilet hole. My scat stinks so terribly today that Romina even becomes nauseous, but I remain determined. My slave must swallow everything! After this first filling Romina makes herself comfortable on the toilet in the bathroom. Since her scat is still waiting to get out, you will get intimate insights into the authentic conversations between two dominatrixes. I show Mistress Romina my vaginal ring and explain to her what she can do if she can't shit right away, but still wants to bring her slave toilet to its knees. In the next scene, the next feeding awaits! Lady Romina crapped on a plate and brings it on the balcony, where I am already waiting with our toilet slave. Our bitch will be humiliated once again! First I pour piss into his face, then we stuff his mouth with Lady Romina´s shit. We are only satisfied if he swallows every single bit of this disgusting scat! Our slave is indeed a good shit-eater, but that´s about everything he is good for. 37 minutes of sexy & mean toilet training!
Name Porn:
Eat it All: 2 Ladies feed 1 Toilet - MissMortelle
Year:
2022
Genres:
lesbian scat, toilet slave, scat porn

Related videos: