2 Strict Mistresses train a Beginner Toilet - Miss Medea [2022 | FullHD]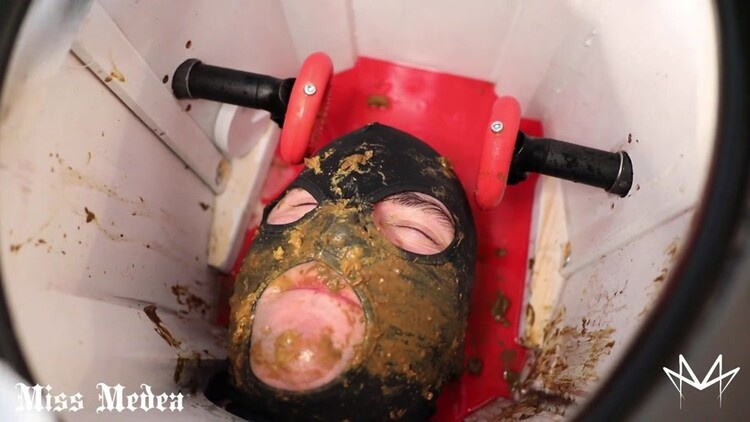 Duration:
00:32:28
Quality:
FullHD
Format:
MPEG-4
Size:
1.06 GB
2 Strict Mistresses train a Beginner Toilet
Our toilet has lost his virginity in one of my videos, but at that time I really did not have to take a big shit... To follow up with his toilet training, I have invited Lady Romina today. Together with her I will be stuffing this beginner toilet with golden shower and scat. He will receive the humiliation of his life!
In the first scene we boss our fearful toilet bitch around and discuss what we will do to him... Then we get dirty already! I sit directly with my pussy on our toilet´s mouth and give him my piss from the source. In between the strong stream of urine, a soft piece of shit has fallen out already. I feed this delicious piece of scat to our toilet pig and make him lick my finger clean.
Now it's time to fixate our beginner toilet under the toilet chair. Lady Romina and I make sure that his hands are fastened to the sides of the toilet chair with cuffs and safety locks, so he is unable to move. Then Lady Romina pulls down her leggings and makes herself comfortable on the toilet chair, while I jerk our toilet's micropenis. Our slave is now helpless and at the mercy of our fluids and our insults! Whenever it is convenient for Lady Romina, she will fill up our slave with golden shower and scat! Meanwhile, I piss into a measuring cup, so that we also have enough liquid to flush the toilet, when Romina took her shit. Finally it is time for us to look at the battlefield inside of the toilet chair. Lady Romina's turd truly looks divine, but our beginner toilet has a very hard time swallowing. He first resists chewing and when we push him, he turns his head, spits out and tries to wriggle out from under the toilet seat. But of course he has no change against Lady Romina and me! We push the toilet chair firmly onto the floor: In this way our slave is trapped under the guillotine of the throne and has no choice but to face our scat-feeding hands. I threaten our toilet that he will never see me again if he does not show more effort to swallow. We remain strict and show no mercy!
Now our struggling toilet will also get my shit to eat! I stand over the toilet chair and stick my asshole into the camera, so that you can see how I press out my delicious shit sausage... Finally my threats seem to show effect. Lady Romina and I flush our toilet. He will indeed eat all of our shit now! His shitty face makes us laugh and insult him even more. Even if we enjoy ourselves, we have our goal firmly in mind: Our incapable beginner toilet will swallow, swallow, swallow, until the bitter end!
Name Porn:
2 Strict Mistresses train a Beginner Toilet - Miss Medea
Year:
2022
Genres:
farting, toilet slavery, poop videos

Related videos: